The Profit Accumulator forum is a discussion board that allows members of the service to discuss matched betting related concepts. For a full insight into what the membership entails, ensure you read our review of Profit Accumulator.  The forum caters for both Platinum Members and those that have joined under the free trial option. It replaces the Facebook forum that was in operation during Profit Accumulator's first year of operation from Autumn 2014 – Autumn 2015.
The forum allows members of the free trial service to seek help from other newbies and beginners. It's almost like a 'waiting room' that allows free trialists to gain an insight into how everything works and allows them to see what the main forum board will be like once registered.
If you've never used one of these discussion boards, don't worry. It's probably quicker and easier than using Twitter or Facebook. Many of you will have read reviews of profit accumulator before joining, such as on NetMums, MumsNet, TheMoneyShed, and Uk-Muscle. These websites are all forum – it is simply a term used to describe a place on the Internet where people can get together online to discuss a subject that they have an interest or passion for.
The Profit Accumulator forum works in the same way, as it allows the members of the site to discuss matched betting with Profit Accumulator, seek help and progress from a beginner to an advanced matched bettor.
How It Stays organised
Facebook was the simple solution when Sam and the team first developed Profit Accumulator. With just a few active members that posted regularly, using a Facebook group was a free and logical decision. A huge amount of members used Facebook, and it could be checked on a smartphone which meant updates and important announcements were never missed. It also meant users could view something important relating to a free bet offer whilst having their laptop or another device free to do the matched betting process itself.
Despite these pros, the Facebook forum became a bit of a nightmare before it was terminated. Facebook groups sort posts in order of most recently posted or replied to. This created a logistical nightmare of trying to keep things organised or prevent people from jumping ahead to an offer that was too advanced for their skill level.
The current forum system avoids such pitfalls, as all forum threads are sorted into categories and subcategories. Each forum represents a certain purpose – such as beginners or advanced matched betting offers, to more administrative purposes such as Announcements and Suggestions/Feedback.
The beginners and advanced offers sub-categories are an almost mirror of their respective section within the member's area on the actual site. Each bookmaker's free bets and promotions that are usable for matched betting purposes are given their own thread. A thread, or topic, allows people to post replies. It means that any frequently asked questions will remain in that thread and never get lost. This in itself creates a massive resource of helpful questions and answers to save time and frustration for future members that are joining and seeking the same help.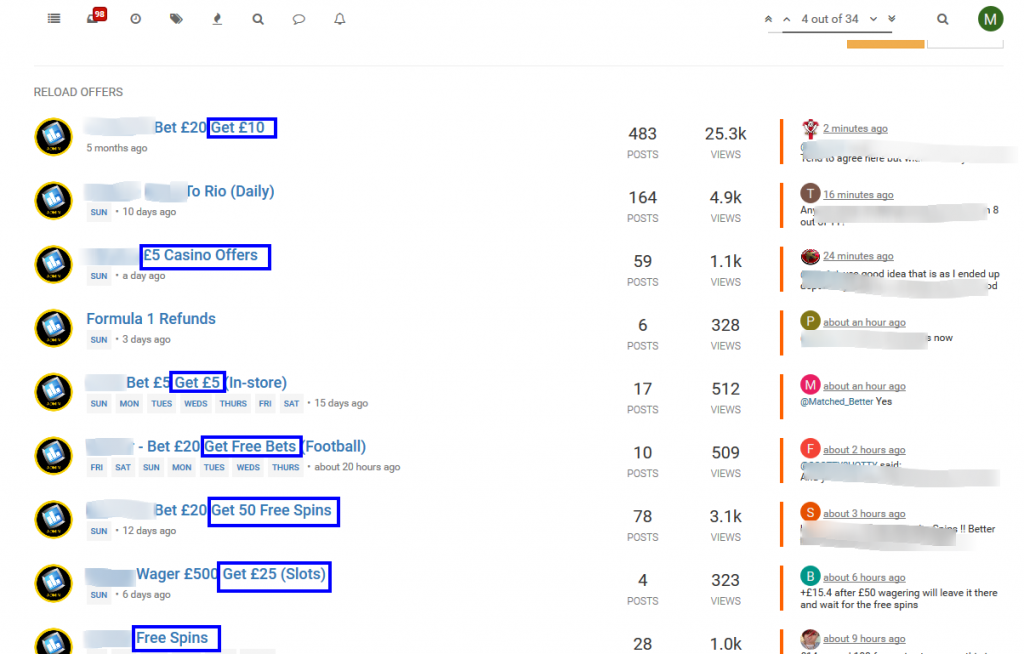 The advanced offers section updates a little more frequently, as these less well-known bookmakers tend to update their offers or change their terms and conditions quite regularly. As a result, the out of date topics are archived into a sub-forum, just to serve as a reference point for anyone who needs to check back in the future. It's also handy as bookmakers tend to rotate their offers – so an archived forum thread relating to a certain offer can easily be brought back to life at the push of a button.
As you progress through your Profit Accumulator journey, more of the forum categories will become relevant. The forum is laid out in a way to align with how you progress in your matched betting journey. For example, casino and bingo offers are done later in your second or third month with Profit Accumulator after gaining a little experience. These forum categories are placed a little further down the list to represent this.
There's a forum for reload offers. As a member, this will be one of your most frequented places. You'll likely check on this daily, as all the reload offers are posted here. They're posted on the site too, but the forum has the slight advantage of allowing you to discuss techniques, issues, strategies and certain odds or markets in relation to the offer. If an offer is deemed unprofitable, having twenty other members pre-warn you can potentially save you hundreds.
Time-Saving Threads
In addition to its useful features, here are several threads, topics and continual resources in the forum that make being a Profit Accumulator member completely worth the price tag. The functionality of the forum allows you to 'upvote' posts – in the same way that you 'Like' things on social media. It means you can spot a helpful resource quickly and reward the person that contributed to it.
Forum topics update in real time, without requiring you to reload the page. If it's half-time during a football match and you badly need a close match between the bookmaker and the exchange in order to complete an offer, having the forum thread update itself with recommendations and tips from your peers is a life-saver.
Profit Accumulator is done 'full time' by some members, who aim to make around £1000 a month from matched betting. There's also plenty 'part-timers' (not a dig at those with a busy schedule!) who only have 20-40 minutes a day spare to take part. As a result, forum admins publish and update a 'How to make £x amount per day' threads, which quickly lists all the offers for that particular day that can be done to make a good chunk of profit.
On some weekdays it might only be possible to make £12, yet it might be more like £82 at the weekend. As a rule of thumb, these threads tend to average out to over £33 a day, resulting in its followers making a tidy £1000 a month.
In addition to the matched betting discussions, there's also a 'social' forum. It allows for discussions of non-matched betting related topics, such as sports or other methods of generating an online income. There's also some motivational threads where people show the incredible purchases or stories of what has been possible thanks to the additional income that Profit Accumulator has provided.
App
To counter the issue of not having Facebook for discussions anymore, the forum can be accessed on a smartphone using the 'PushBullet' app. It's available and works well on the majority of iOS and Android phones – so you can still whip out your iPhone under the desk at work and see if there's any useful forum offers floating around!
Need any more information about the forum? Leave a message below and I'll get back to you.